Announcements
New Editor-in-Chief for IJITIS
19 October, 2023

We are pleased to introduce Prof. Dr. Dimitrios A. Karras as the new Editor-in-Chief of the International Journal of Innovative Technology and Interdisciplinary Sciences (IJITIS).
Dr. Karras is a distinguished scholar with a robust publication record, spanning over 220 research papers in areas like pattern recognition, image/signal processing, neural networks, and bioinformatics according to SCOPUS database.
With previous editorial roles, including Editor-in-Chief of the International Journal of Signal and Imaging Systems Engineering (IJSISE) and Associate Editor for various scientific journals, Dr. Karras brings a wealth of experience.
Currently serving as the Editor of "Engineering Applications of Artificial Intelligence" at Elsevier, his dedication to advancing technology and interdisciplinary sciences is evident.
Under his leadership, IJITIS is poised to continue its legacy as a hub for innovative research and interdisciplinary collaboration.
Please join us in welcoming Prof. Dr. Dimitrios A. Karras to IJITIS.
TULTECH MTÜ
New blog posts
Weather
-5°C
Clouds in Tallinn
Calendar of Events
Universe composed of water? Large exoplanet's environment contains methane and atmospheric carbon dioxide.
Posted on 22 September, 2023 by Reza Moezzi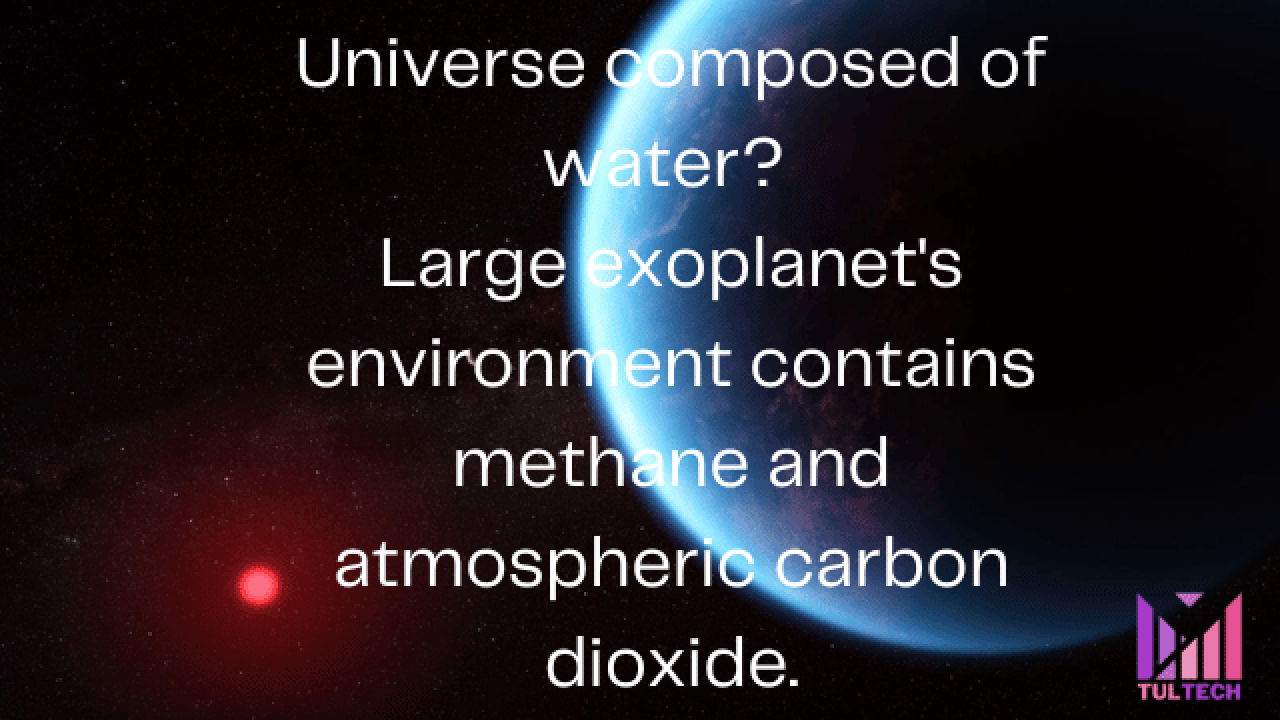 Hubble Space Telescope observations provided the first look at this habitable-zone exoplanet, revealing details about its atmosphere that led to further research that fundamentally altered our understanding of the system.
K2-18 b is located in the constellation Leo, 120 light-years from Earth, and orbits the cold dwarf star K2-18 within the habitable zone. K2-18 b is one of the many exoplanets that are completely unique to our solar system because of its intermediate size between that of Earth and Neptune. Due to the lack of analogous nearby planets, the nature of these'sub-Neptunes'' atmospheres is a hotly contested topic among astronomers.
Some scientists have high hopes for finding signs of life on exoplanets, and the possibility that sub-Neptune K2-18 b is a Hycean exoplanet is interesting.
Nikku Madhusudhan, an astronomer at the University of Cambridge and lead author of the publication revealing these results, said, "Our findings underscore the importance of considering diverse habitable environments in the search for life elsewhere." The larger Hycean worlds are much more suitable to atmospheric observations, although smaller rocky planets have traditionally been the primary focus of the hunt for life on exoplanets.
Methane and carbon dioxide are plentiful, whereas ammonia is scarce, lending credence to the idea that K2-18 b has a water ocean beneath its hydrogen-rich atmosphere. These preliminary Webb observations may have also shown the presence of a chemical known as dimethyl sulphide (DMS). Only living things on Earth are capable of making this. Phytoplankton in marine areas are responsible for releasing the vast majority of DMS into Earth's atmosphere.
Scientist Savvas Constantinou of Cambridge University noted that their findings were based on only two observations of K2-18 b, but that many more were on the way. Accordingly, "this means our work here is but an early demonstration of what Webb can observe in habitable-zone exoplanets."
The team's findings will be published in the Letters section of The Astrophysical Journal.
To further confirm these findings and shed new light on the environmental conditions on K2-18 b, the team plans to perform follow-up research using the telescope's MIRI (Mid-Infrared Instrument) spectrograph.
If life were found on a habitable exoplanet, "it would transform our understanding of our place in the universe," Madhusudhan said. According to the authors, "our findings are a promising step towards a deeper understanding of Hycean worlds in this quest."
 
Source: NASA/Goddard Space Flight Centre contributed the materials used in this blog post. Editing for clarity and length may occur.
---
Event Categories
Today In History
Here are some interesting facts ih history happened on 4 December.
America's 1st Thanksgiving Day (Va)
A hen in Rome lays an egg imprinted with figure of great comet 1st seen on December 16 1680
1st Gen Assembly in Penn (Chester)
Washington bids officers farewell at Fraunce's Tavern NYC
1st Grey Cup game (University of Toronto 26 Toronto Parkdale 6)
Roald Amundsen reaches South pole
Panama Pacific International Exposition opens
1st edition of Chase's Annual Events published
Gemini 7 launched with 2 astronauts
Islanders end 15 game undefeated streak (13-0-2) (Col Rockies)
South Africa grants Transkei independence